19 timesheet apps for keeping track of you and your team's work
If you're looking for a convenient way to document your work hours, this comparative list of timesheet apps may be just what you need. Since the industrial revolution, employers have been scratching their heads about how to best keep track of their employees' hours. Using timesheets for that purpose has been in the picture for a few hundred years now, evolving from physical time books to various virtual timesheet apps.
Want to get the most out of your time?
Try DeskTime for free!
Try free for 14 days · No credit card required.
Keeping track of work time with timesheet apps benefits employers, employees, and clients as well. It provides a clear overview of worked hours and days. Plus, some of the tools track time spent on specific tasks and keep track of billable hours – convenient for calculating project costs and transparently billing customers.
Today's list of available employee timesheet apps that can also offer a broad range of other features is long-winded. Thus, choosing the perfect tool can be a longer process than you may think. Luckily, here's a list of 19 timesheet apps that suit various needs – from timer-based solutions to automatic tools and the best timesheet apps available for free. Dive in and pick what's best for you!
Timer-based and manual entry timesheet apps
1. Toggl Track
Toggl Track (formerly known as Toggl) is a relatively simple timer-based timesheet software. It allows you to create projects, log tasks within the projects, and then set an easy one-click timer to track your hours as you begin working.
Besides using timers to monitor your work, Toggl Track has a background tracking feature that lists every website you use for longer than 10 seconds, making it significantly easier to later turn the data into entries for timesheets. Additionally, the timesheet software's autotracker function reminds you of data entries by sending desktop notifications when necessary.
Special features:
The employee timesheet software integrates with 100+ online tools via its Browser Plugin for Google Chrome and Firefox
Calendar integration creates time entries from events marked on your calendar
Time entry rounding feature
Versions available: Desktop and mobile apps, and a Web app
Pricing: Starter plan 10$ per user/month; Premium 20$ per user/month
2. actiTIME
actiTIME timesheet software is an easy-to-use tool for manually entering work time data into a timesheet. It provides a detailed overview of employee hours and tasks to see how the team's time is distributed among clients and different projects. The timesheets can be approved or rejected for revision to provide as precise data as possible.
With actiTIME, employers can make sure that workers complete their timesheets regularly by setting up automatic email reminders. The timesheet tool also provides reports and data analysis in a visually appealing way. How exactly you want them to be displayed is up to you – pick charts, spreadsheets, PDF format, and more.
What's more – if you're not up for a fast transition from manual timesheets to an app, actiTIME offers four free timesheet templates for download on their website. You can begin with implementing those into your routine, and when you're ready – explore the perks of timesheet software.
Special features:
Work scope management feature allows you to customize your work structure, quickly create project tasks by uploading them in bulk from CSV, assign particular tasks, lock completed timesheets to protect them from changes, and more
Cost calculation, billing & invoicing
Versions available: Mobile timesheet app, online version, and actiTIME Self-Hosted option
Pricing: actiTIME Online starts at $7 per user/mo, actiTIME Self-Hosted starts at $1200/one-time payment for ten users
3. Hours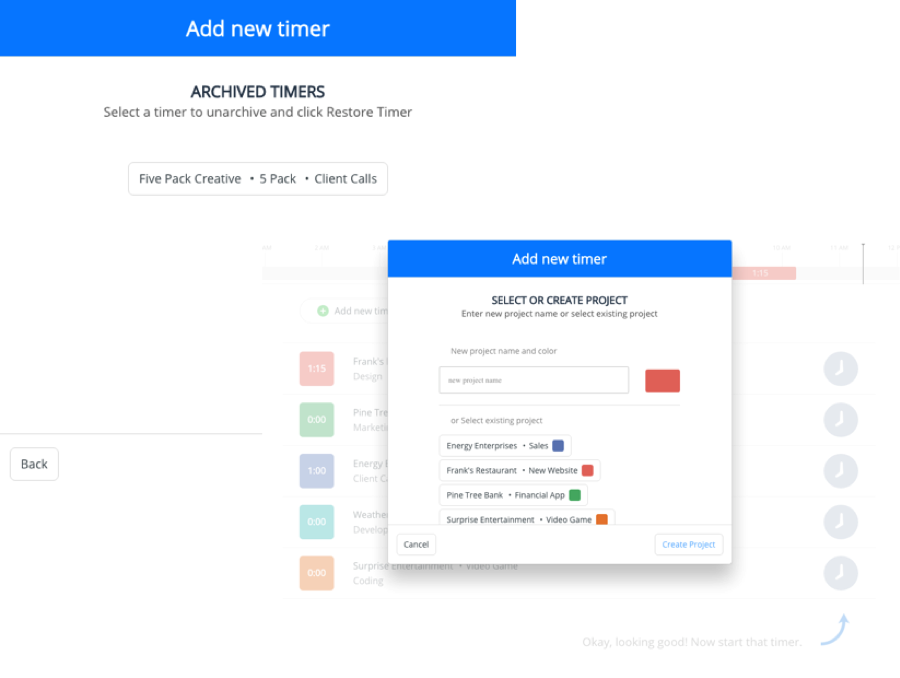 If you're looking for a simple timesheet app without many added features, check out Hours. You'll be able to keep a list of running timers and switch between them as you change tasks. Additionally, making time entries with Hours is convenient for those who are forgetful. With the tool, you can easily enter and adjust your timestamps afterward. Hours also provides timesheet reports that visualize data in a simple-to-understand format.
Special features:
Available for use on an Apple Watch
You can manage your tasks and projects by color-coding them
Recently added invoicing option
Versions available: Web, iOS
Pricing: $8 user/per month
4. Tick
Tick will be an excellent timesheet management software for those working on a project basis. It provides direct tracking of time against the estimated project's budget and timeline.
Entering your work time in Tick is carried out by straightforward timecards – choose a project, pick a task, and document your time to the timecard. You can also add notes if necessary. What is especially convenient is that when you enter a new timecard for a project, Tick shows how much time and budget is left on your schedule for the particular project.
Additionally, Tick's in-app running timers make filling your timesheet in the app effortless. Set the timer as you begin a task, switch it as you shift between assignments, and receive a precise amount of time calculated on each job throughout your workday.
Special features:
Variety of report options, such as reporting by client or person, and general overview of course
Connects to 750+ web apps, such as Asana, Zapier, Trello, and many more
Versions available: Mobile app, Chrome extension, apps for Apple Watch and Mac
Pricing: $19/ mo for 10 projects, $49/ mo for 30 projects, $79/ mo for 60 projects, $149/ mo for unlimited projects
5. Minute Dock
MinuteDock – another manual entry timesheet software that is easy to use and straightforward. It tracks time with running timers and allows you to categorize the data by clients, projects, or tasks. The timers are synchronized in both web and mobile apps, allowing you to fill out timesheets regardless of location and device at hand. Plus, the timesheet app helps to complete your timesheet fast with its smart keyboard-based entries and supports backdating time entries as well.
MinuteDock provides an opportunity to transfer data from timesheets to invoices and adjust the info and details that your clients will see. Additionally, employee timesheets are quickly turned into timely reports for employers and clients to provide complete work transparency.
Special features:
Popular accounting software integrations
Multi-currency billing
Goal creation for you and your team and a target tracking option
Versions available: iPhone, Android apps, web-based
Pricing: Single user freelancer plan begins at $19/mo, five users small team plan starts at $49/mo, Business plan with ten users included starts at $99/mo
6. ClockInEasy
ClockInEasy is an online timesheet software that offers manual timesheet entry. All it takes is a single click to add a new entry, then enter time data by duration or clock in/out of work. The entry can be assigned to an already existing project, and it's easy to add notes, attachments and make corrections afterward if needed. Also, optional face recognition can be set up at clocking in and out.
What's especially convenient with ClockInEasy is that you can clock in and out from nearly any device. Timesheet software's web browser version makes it effortless to track your work hours with a few clicks. Additionally, the software's cloud-based timesheet management option provides employers with convenient access to employee timesheets wherever and whenever.
Special features:
Face recognition and GPS location for timesheet entries
Notifications to remind on clocking in/out
Detailed reports that can be quickly exported
Versions available: Mobile app, web browser version, tablet option
Pricing: $5 per user/ mo for the Professional plan, and the Enterprise plan pricing is tailored individually
Automatic timesheet software
7. DeskTime
For those who'd like to have a timesheet software running quietly in the background and not interrupting daily workflow with manual time entries, an automatic employee timesheet app is the best solution.
DeskTime is an automatic time tracking and timesheet software with a list of added features you and your team would benefit from. But most importantly, it's the automatic tracking of work hours that makes creating timesheets and shaping reports extremely easy.
Besides tracking time while you work, DeskTime also measures how productive and efficient you are, adding this analysis to your timesheet. Such addition allows spotting what time of the day is best for deep work, unproductive habits to ditch, and more. DeskTime has an option to track projects and add particular tasks so that the overview of one's work is crystal clear. Automatic timesheets allow you to forget about errors in data and focus on work 100%.
Special features:
Productivity and efficiency analysis, URL and app tracking
Project tracking and cost calculation 
Shift scheduling and absence calendar for easy employee management
Tracking time both online and offline for a comprehensive overview
Automatic idle time detection
Break time reminders to avoid overworking
Versions available: Desktop app for Windows, Linux, and Mac, a mobile app for Android and iOS
Pricing: Pro version costs at $7 per user/mo, Premium – $10 per user/mo, Enterprise – $20 per user/mo, but it's cheaper if you pick the annual subscription plan.
8. WorkComposer
Another timesheet software that adds an automatic option to manual time entry is WorkComposer. With this timesheet app, companies can choose whether to track work hours automatically or stay with a manual approach, and it can be adjusted on the organization settings. As the tracking begins, WorkComposer records both the time and how it's spent, plus the app can be closed and will still collect data quietly in the background.
Not every task requires screen time, undoubtedly. And to provide the most accurate timesheet, WorkComposer offers to track the time spent away from screens as well – employees can provide information on those tasks later. Timesheet reports give an overview of work time, break time, activity chart to see how actively the work hours have been spent, and the used apps and URLs.
Special features:
Auto screenshots
Project time tracking and task management
Stealth mode
Versions available: Windows, Linux, macOS desktop apps
Pricing: $2.99/user/per month
9. Paymo
Paymo is a team-friendly and simple timesheet app that can bring order into the sometimes chaotic world of projects. It measures work time automatically so the users can forget about timers and clock-ins/outs. However, in case of a need to clock a specific task or a project, Paymo offers an integrated online timer as well.
The timesheet app offers multiple views to suit all preferences. Moreover, viewing, adding, and editing time entries are within a few clicks reach. Based on timesheets, Paymo creates thorough reports that can be both static or live and changing as the work progresses. Next to a simple data view, you can also create timesheet-based reports with chart visualizations and customize the reports via 20+ different parameters.
Besides the timesheet functionality, Paymo offers a broad range of other features that could significantly benefit project-based teams and companies.
Special features:
Kanban board for creating an effective workflow of projects
Vacation and leave management
Gantt Chart view for illustrating project's progress and overview
Versions available: Desktop app for Windows, Mac, and Linux, a mobile app for Android and iOS
Pricing: Small office plan for $11.95 per user/mo and Business plan for $18.95 per user/mo
10. Journyx WX
Are you looking for online timesheet software? Journyx WX may be an option to consider. The software offers "smart timesheets" that implement AI and machine learning algorithms to enable autofill suggestions. The longer you and your employees use Journyx, the wiser your timesheets get. Additionally, the app can autofill timesheets with tasks, calendar events, and other valuable data as it can be synchronized with many apps and systems you use daily.
Worth noting – the Journyx WX is best suited for keeping track of non-project time. It's a good fit for various other timesheet management needs. Still, those who work on a project-basis may want to look through other solutions offered by Journyx or different timesheet apps within this list.
Special features:
Time and expenses reporting
Integrating with more than 15 business systems
Payroll automation
Enhanced data security and privacy
Versions available: Mobile app for Android and iOS, cloud-based, and a desktop app for Mac and Windows
Pricing: $5/user/mo
11. Workpuls
Joining the list of automatic timesheet software is Workpuls – an app that focuses both on keeping a record of employee work time and how productive the work hours have been.
Workpuls tracks attendance and hours in real-time and generates timesheets automatically according to the tracked work time and other data. This simple timesheet software is an excellent replacement for manual time entry systems. However, it also allows entering data manually if work-related activities are happening offline or away from the screen.
Through an easy-to-navigate dashboard, employers receive a complete overview of their workers' activities – time, tasks, breaks, productivity. Workpuls timesheets also can be turned into reports. Plus, you can schedule an automatic report delivery via email or export them in various formats for further use and analysis.
Special features:
Employee monitoring through computer activity tracking and regular screenshots
Project overview and budgeting
Automatic time mapping
Versions available: Windows and macOS apps, web solution
Pricing: Begins at $6/user/mo
12. Hubstaff
Hubstaff is a timesheet app that tracks employee time via both desktop and mobile apps and turns the data into convenient timesheets. Managers can review the timesheets, approve or ask for specifications, as well as manage employee absence. Manual time entries are also available, however, they need to be authorized by managers first.
The timesheet software provides a daily, weekly, or calendar view of timesheets so employers can see who has been working, how much, and on what. Additionally, Hubstaff offers GPS timesheets with employee location data that can be especially useful for companies having remote teams or workers in several locations. Employers can also set up geofences for on-site workers, so the mobile timesheet app begins tracking work hours as the employee arrives at the working site.
Special features:
Location-based time tracking
Employee scheduling
Invoicing and payroll
Versions available: Windows, Mac, and Linux desktop apps, a mobile app for Android and iOS, a web version
Pricing: Basic from $7/user/mo, Premium from $10/user/mo, Enterprise from $20/user/mo
13. Time Doctor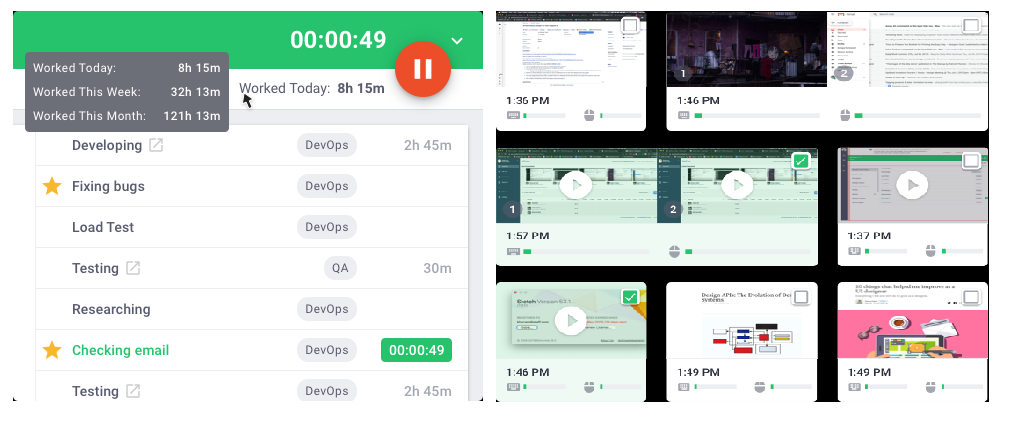 Time Doctor is a timesheet program that helps track how each individual on the team makes use of their work hours. It has an alert feature to avoid distraction for extra productivity. It has a desktop software, a mobile version, and even a Chrome app. Other features include online timesheets and payroll, project management and budgeting, screenshots and activity levels, integrations and API, among others.
Time Doctor also creates a summary of time spent on each project, client, and task. The dashboard offers daily and weekly summary email reports making it easy to analyze patterns, track time accurately, bill clients quickly, and pay employees. Payroll setup is fully customizable, includes a variety of payroll periods, and supports all currencies.
Special features:
Task and project tracking
Unlimited screenshots and video screen capture
Activity, App and URL tracking
60+ integrations
Versions available: Desktop app for Windows, Linux, and Mac, a mobile app for Android and iOS
Pricing: Basic $7/user/mo, Standard $10/user/mo, Premium $20/user/mo
Best timesheet apps available for free
14. Clockify
Even though Clockify has paid subscriptions, this timesheet app's free version can suit various needs as it provides quite a lot of functionality. It's a simple timesheet app that will primarily benefit users that need to keep track of project hours.
Clockify tracks hours via a stop-timer, then the time is logged into a timesheet, where it can be allocated to a particular project or marked as billable. The free timesheet app provides weekly, detailed, and summary reports with a quite aesthetically pleasing design. However, such features as locking the timesheets, time entry approval, assigning a manager role via the app, timesheet import, and more are only available in the paid versions.
Special features:
Unlimited tracking and number of projects
Unlimited reports
Save timesheet templates
Versions available: Web app, a desktop app for Windows, Mac, and Linux, a mobile app for Android and iOS
Number of users supported: unlimited
15. LogSpace
If you're searching for free timesheet apps for individual use, it's worth looking at LogSpace. Like Clockify, LogSpace has several paid subscription plans and a free version, only this time it's for a single user with up to 3 active projects. For those whose needs aren't expansive, the LogSpace online timesheet software can be a good fit.
You can clock in/out your work hours via an easy-to-use dashboard. It also allows you to choose the project and add notes to the time entry to clarify specific tasks. Time entries are automatically added to your daily timesheet where they appear in a summarized format in connection with a particular project, and it's also possible to enter work hours manually. You can overview how your work hours are distributed daily, weekly, and monthly to arrange or adjust your workflow.
Special features:
Expense monitoring
Reports
Exporting expense and time log data as CSV
Versions available: Web-based; mobile app for Android and iOS
Number of users supported: single, up to 3 active projects
16. Log My Hours
Another free timesheet management software that is good for individual use – Log My Hours. Its name says it all – a place to log your hours. However, this app's free version provides some other useful features besides time entries and timesheets – recording expenses, invoicing, reporting exports, and more.
Log My Hours timesheet app supports both manual time entries and clocking in with the tool's timer. When operating with your timesheet, choose what's better for you – a daily or a weekly view, and add notes about each time entry so you have a comprehensive idea of your workflow in the end. The Log My Hours offers basic, detailed, and un-invoiced reports to fit various data summary needs, whether it is for personal use or to provide transparency for your clients.
Special features:
Unlimited invoicing
Unlimited number of project tasks
Setting billable rates
Versions available: Mobile app for Android and iOS; Chrome extension
Number of users supported: Single + up to 2 active projects and four clients
17. TopTracker
Shoutout to all the freelancers because the TopTracker free timesheet app was built specifically for you. It was created to ease the freelance workflow as it's often a painful topic among self-employed individuals.
The app tracks work hours, keeps a record on specific tasks, and transfers the info to timesheets. Besides gathering time and task-related data, TopTracker also records keyboard and mouse activity and has an idle mode for when a user's taking a break from work.
Whether you're working from home, coworking, cafe, or beach, the TopTracker timesheet app effortlessly tracks your time and activity from any device. It then provides you with a detailed overview of your workflow and productivity.
Special features:
Regular screenshots
Receive or send payments via a trusted 3-rd party payments provider
Activity level tracking, idle time detection
Versions available: Web and desktop (Windows, Mac, Linux) apps
Number of users supported: not specified
18. Jibble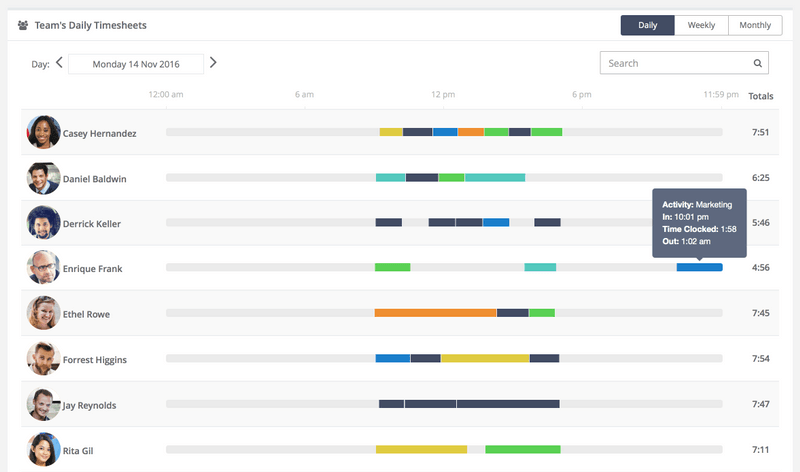 If you're looking for free automatic timesheet apps that support an unlimited number of users, consider Jibble. It not only generates error-free timesheets automatically but also calculates overtime and makes payroll quicker. With Jibble, you can use daily, weekly, or monthly timesheets to gather the insight you need.
For employees that work from different locations, Jibble offers to clock in/out with one's geolocation via the mobile app so that the employer has a transparent overview of worker whereabouts. Additionally, the timesheet app has an offline timesheet viewing option, which can also be easily done via the mobile app – convenient for managers often on the move.
Special features:
Offline mode
Facial recognition and clocking in/out with selfies
Geolocation and geofencing for field jobs
Versions available: Mobile app for Android and iOS, a desktop app for Mac and Windows, Chrome extension
Number of users supported: unlimited
19. Homebase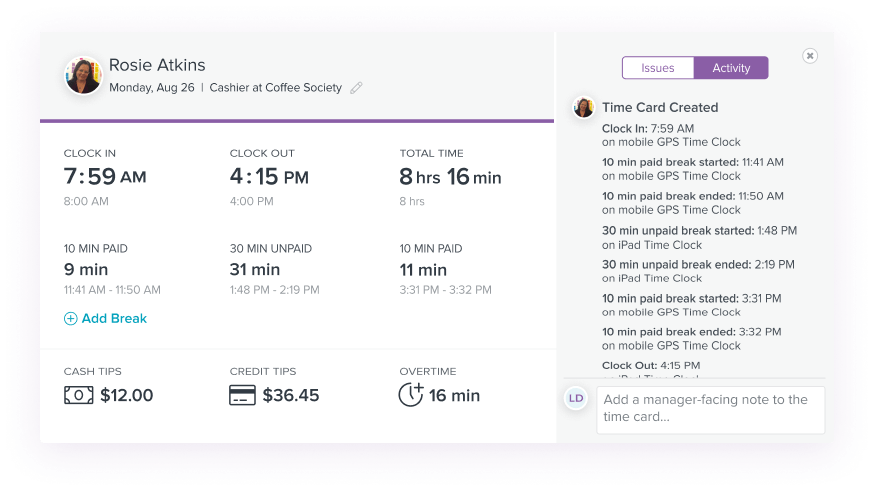 Meet the last member of this free timesheet apps sublist – Homebase. It's a cloud-based timesheet tool created to help employees ditch massive amounts of paperwork once and for all. The Homebase app allows keeping track of work hours from anywhere – its mobile app is easy-to-use and is an excellent fit for workers of retail, catering, healthcare, and other service-based industries.
Homebase timesheet app keeps track of work hours, earned tips, paid and unpaid break time, and calculates overtime. What's convenient is that the app recognizes errors, such as employees forgetting to take breaks or clock out at the end of their shift, and then enables easy correction within the timesheets. The Homebase app also offers several paid subscriptions, however, its free version covers the essential needs of timesheet app users just fine.
Special features:
Shift schedule builder
In-app messaging
Employee health screening questions at clock-in
Versions available: Web-based
Number of users supported: not specified, but the free version is for a single-location use
Final remarks on exploring the universe of timesheet apps
Picking the perfect timesheet app for you and your team can be a lengthy process. It's essential to acknowledge your needs and expectations before you dive into the world of timesheet management software.
Do you need additional features besides the time entry functionality, or is a free tool with basic options good enough for you? Is your work project-based, or is keeping track of one's geolocation what you really need? Write down your necessities to see your primary requirements for timesheet software and seek the best fit – the list above is a great place to start your journey.
Additionally, remember that using a free trial of the timesheet app is a great way to explore the compatibility of your needs and the tool. DeskTime offers a 14-day free trial that includes all features – no credit card required, just some curiosity to try. See you around!
Did you find this article useful? Give it a clap!
Psst! You can clap more than once if you really loved it 🙂